Did someone say Halloween trampoline?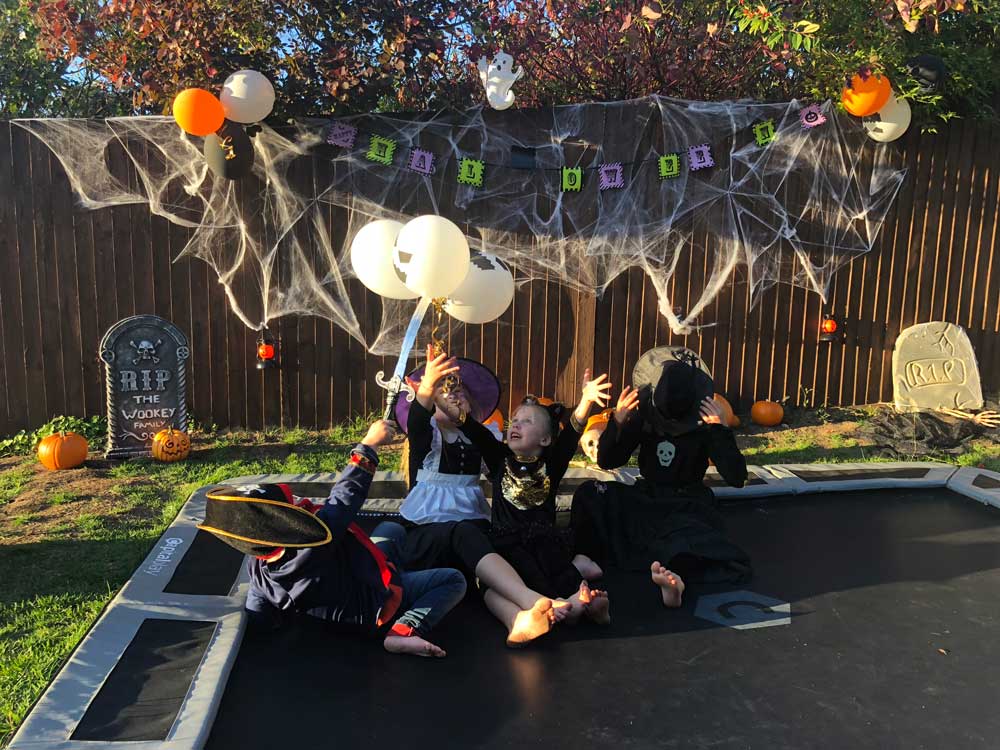 Here at CP HQ we love a good party, so we decided to turn our latest In-ground Trampoline photo shoot into a bit of a Halloween Party. Which meant that super excited Darcy, Daphne, Isla and little Callum not only got to dress up in halloween outfits, have loads of fun on an 11ft x 8ft trampoline but they also got their fill of party rings, spooky music and mini scotch eggs too.
Our four little trampoline testers ranged from ages 2 up to 10. Holding a a trampoline party is a such great idea; although you'll need to set a few ground rules first, such as only one child on the trampoline at a time and remember our exceptionally sturdy In-ground Trampolines are perfect for teenagers and adults too!
Sometimes throwing a child's party can be hard to please everyone, especially if you are having to please a wide range of ages and both boys and girls. Holding a trampoline party is inclusive of everyone. Throwing a trampoline party would be just as much fun on a traditional above-ground trampoline, however there are lot's of benefits of an In-ground Trampoline:
1. Ease of access
Meaning it's great for taking turns and the younger guests won't need your help up & down trampoline ladders
2. Suitable for all abilities 
Our flush to ground in-ground trampolines are suitable for use by less abled children or children on the autistic spectrum.
3. All ages and high user weight 
The great thing about trampolining is that every individual can use the trampoline to their own ability and skill level, so little Callum (trampoline newbie) had an amazing time doing gentle bounces only a few inches high and Daphne and Darcey who were older and more confident could practice their tricks and reach some great heights.
As the sun began to set we switched on the Capital Play 'Magic Night Lights', now available in colour changing too for the ultimate mood lighting for your garden design.
This Capital In-ground Trampoline was professionally installed by the Capital Play Install team. Please contact us on 01276 855600 to see if we install in your area.
Hope you're inspired, remember to share your party photos with us #capitalplay