Capital Play - Trampoline Install (Customer Video)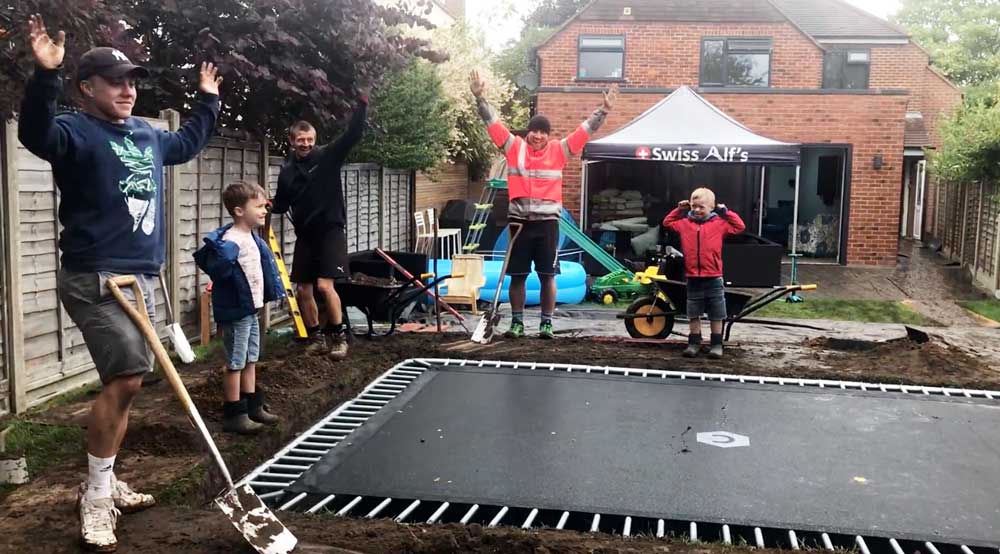 Earlier this Summer, team CP installed a Capital In-ground Trampoline for a lovely family in Surrey. Sarah Jutsum, Mum of 3, kindly filmed and shared the whole process! The trampoline was installed in one day, with a little extra help from three adorable miniature helpers ;)
Here's what Sarah said: 
Want to see what goes into an in-ground trampoline install? This was a few months ago now but finally getting round to posting for anyone interested..
Sam and the rest of the guys from @capital.play , turned up around 8.30am on the morning of the install. Sam had come round previously to take a look at our side access (or should I say lack of) as the slight issue with our property, was that the digger that would have normally used, wouldn't be able to squeeze through, so they'd subsequently dig all of it by hand. I'd been worried this might have been a problem but he assured me it wasn't at all and that they could use a hand held digger along with spades and cold hard sweat 🙌🏻
~

The guys positioned where the trampoline should go, then marked it out, moving the trampoline out of the way whilst they started digging. They worked solidly, give or take a tea and lunch break, all day and we were so happy with the results. I had no idea they'd have to dig such a deep a hole or that there was so much science behind how to dig it!!!!
~

My kids had wanted to join in, which I don't doubt would have been a little irritating (having to negotiate their way around little people) but the guys couldn't have been more accommodating. The kids loved them. Whilst the other two retreated inside after a short time, Oscar's staying power was to be commended. Even in the cold and rain, he kept digging and it honestly made his week that he'd been allowed to help them like that - So huge thanks to them all for their patience
~

@capital.play trampolines are for anyone - children, adults, keen gymnasts but not only that, they have also fit number of trampolines in SEN (Special Educational Needs) settings across the UK. The benefits of "Rebound Exercise" and "Rebound Therapy" have become increasingly apparent over recent years and in ground trampolines have become a big part of this movement and the promotion of aided play and exercise.