How to secure your trampoline in high winds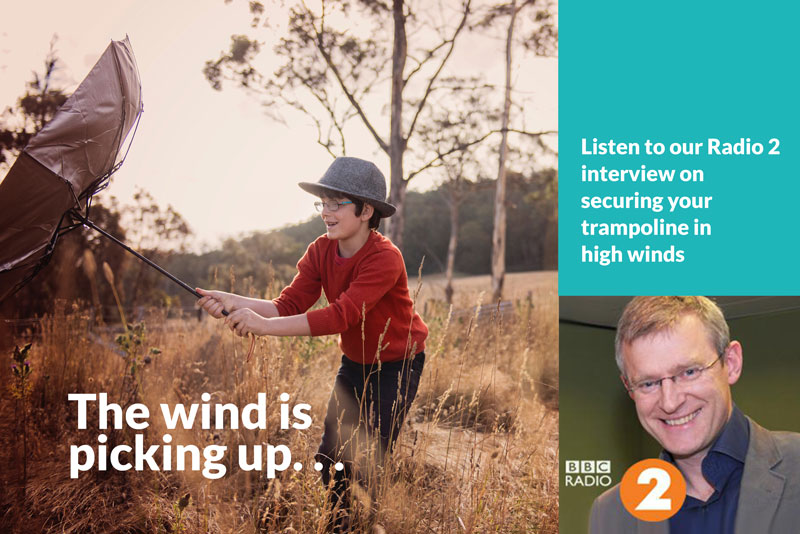 Capital Play were approached by Radio 2 as the UK's leading trampoline experts to advise on the best ways of securing and tethering trampolines in this windy weather so we sent Sonia Lowde to the rescue to share all her advice on the subject.
Trampolines have a large surface area, and 'can' move in high winds or worse, blow away into trees, neighbours gardens or it could end up with your trampoline on a train track. Luckily though this doesn't happen very often. This tends to be an issue either in extreme conditions, where the area is very exposed, but it can also happen if you have a lighter, budget trampoline too.
Really our only advice in gales or high winds is to secure your trampoline to the ground, it's that simple. The easiest way is with a purpose designed Anchor-down Kit which we sell for £26.99.
 A Trampoline Tie-Down Kit is used to help prevent your trampoline from blowing over in high winds. it basically 'straps' your trampoline to the ground using straps and large metal 'corkscrew' stakes. You don't need to keep it there all the time, but we strongly recommend using one when the winds pick up.
When installed you hardly notice the anchor down kit and it's great peace of mind which can be left all year round.
Sandbags!
Sometimes you may be caught out and need a solution fast, sandbags will help add weight to lighter trampolines and may prevent your trampoline moving in high winds. They are also a good solution if your trampoline is positioned on decking or a patio in which you are unable to use an anchor down kit.