In-ground trampoline but no garden access? Think it can't be done? Think again?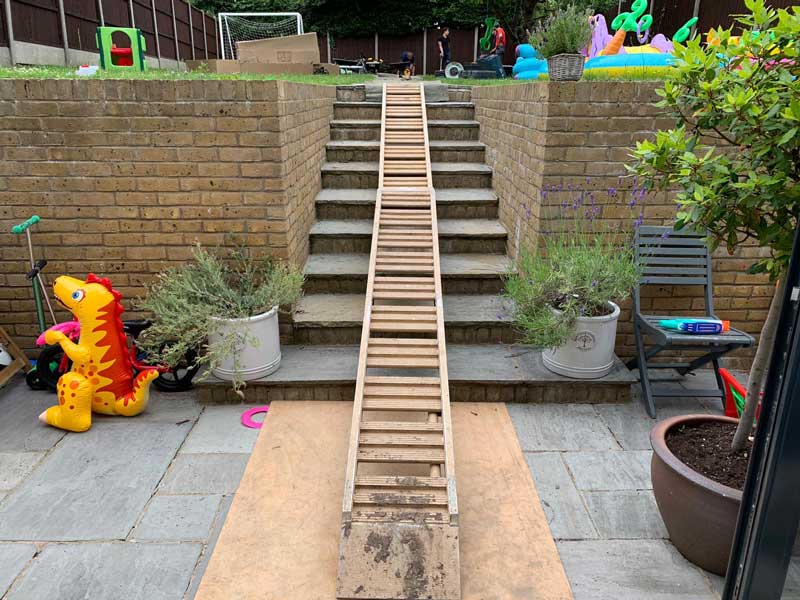 Team CP once again proved that no side or rear access to your garden or living mid-terrace  needn't stop you from owning your very own in-ground trampoline. Our professional team install In-ground trampolines daily throughout the Summer, and are well versed in gardens with no or awkward access or long barrow runs..  but this is also a DIY project that can be undertaken by you or your landscape gardener too.
The main difference is you most likely won't be able to use a digger, so you'll be hand-digging the hole, and then wheelbarrowing it through the house and out to your skip, or onto the drive ready for a grab lorry. You may also have steps to con­tend with, for which you'll need to create some ramps out of boards or wooden planks.
We'd always recommend measuring your doorways first, for the whole barrow-run, and then make sure you can actually fit a wheel-barrow through the house, whilst we have known customers who have done it, using buckets will take MUCH longer!
You'll also need to protect your floors and walls, especially in narrow hallways. Our installers use special rubber matting which can flex up the walls slightly in hallways and against furniture, meaning at the end of the job it can be lifted and any remaining soil is easy to contain and carry outside.
If you don't want to invest in specialist protective floor coverings, a great tip is to keep all the boxes your trampoline comes in and use these flattened out – the sides can be used in the same way at the end of the job to contain and slide out any remaining soil. Use plywood boards and ramps to navigate over doorways and steps.