In-ground trampolines for use in school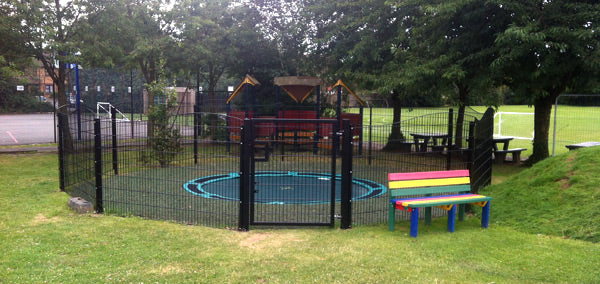 Kids love trampolining. Kids go to school. Therefore many schools install trampolines in their playgrounds and in particular in-ground trampolines. The following is intended as best practice guidelines for anyone considering installing the Capital In-ground Trampoline Kit in a non-domestic play environment such as school or play park.
The guidelines are taken from ROSPA (Royal Society for Prevention of Accidents) Information Sheet No 34 and updated with reference to the latest Safety Standards.
Safety Certification.
There is currently no safety standard that directly relates to in-ground trampolines. However, the Capital In-ground Trampoline has been tested by TUV SUD to their test program PPP 621001B, 'Test principles for the safety of trampolines' which is based on a combination of the following standards in part or full:
EN 913 – Gymnastic Equipment. General safety requirements and test methods.
EN71 – Safety of Toys. Activity toys for domestic use.
EN 13219 – Gymnastic Equipment. Trampolines. Functional and safety requirements test.
The Capital In-ground Trampoline Kits are primarily designed for domestic use and not for commercial use and do not conform to EN 1176 – Playground Equipment Standard. The trampolines are not suitable for unsupervised general public play areas and they are not vandal proof.
We highly recommend you contact your insurance company to ensure you are able to install the Capital In-ground Trampoline in your intended location.
Recommendations.
1. As approximately 75% of injuries occur when more than one person is on the trampoline, use should be restricted to a single user.
2. Children under 6 are particularly vulnerable and it is recommended that a minimum age of at least 6 is placed on use of trampolines.
3. Supervision by staff is no guarantee of safety and in around half of accidents the child is being supervised by staff. Spotters however greatly reduce this risk. Where practical experienced "spotters" should be present whilst trampolines are in use. These spotters should receive appropriate training.
4. The area around the trampoline should be clear of objects and the trampoline should not be near fences, trees, or other playground equipment.
5. Use a frame pad that fully covers the entire spring system and ensure that this is securely fixed against movement.
6. Users should be required to remove all jewellery etc (including ear studs etc). Clothing should not have any hard or sharp points (buckles, toggles etc) or anything that is going to catch. Users should not wear hard shoes.
7. Appropriate notices indicating minimum age, use by only one user at a time and the provisions of 6 above should be clearly displayed.
8. All staff should be fully aware of the emergency procedures for trampolining incidents at the area.
9. You should never allow a child to exit the trampoline by bouncing off.
10. The facility should have at least one qualified first-aid provider present at all times.
11. The equipment should be inspected by a suitable person before every use and the area around the trampoline should be kept free of litter and other items at all times.
12. The following should be checked before every use.
a. Wear on the jump mat, any damaged or thinning areas.
b. Loose stitching or damaged of breaks in webbing.
c. Uneven or high tension on the jump mat.
d. All springs should be in place and undamaged with any hooks facing downwards.
e. Stretched or elongated springs should be replaced
f. Surround pads should be checked for damage and security of fixing
g. Impact attenuating surfaces should be checked for damage and cleanliness.
13. Smoking should not be allowed on, or near, the trampoline. Food and drink should also be kept well away from the area.
14. If outdoors, muddy footwear should be removed before entering the trampoline area.
15. Children should be encouraged to understand their limitations and not to try skills/moves beyond their ability or experience.
16. Damaged equipment should be taken out of use immediately and reported to the responsible safety manager.
17. It is recommended that users should not be allowed excessive time on the trampoline without a break. Untrained users do not have the muscle strength for long periods. 90 seconds is a recommended maximum time for usage without a break.
18. An appropriate accident book that meets the requirements of the Health and Safety Executive should be kept. It is recommended that the trampoline area should have its own accident book.
19. A fence with gated entrance points should be constructed around the trampoline so that access can be controlled.
20. There should be good access for emergency vehicles to the trampoline area.
These guidelines should be read in conjunction with the Safety Information on Page 12 of the Capital Play 'Installation Manual and Safety Instructions'.
A Care and Maintenance schedule should be drawn up and an inspection record kept. A recommended schedule is contained in the 'Installation Manual and Safety Instructions' on Page 14.
To view our range of in-ground trampolines for schools, click here.