Mother's Day surprise on ITV's This Morning with Phillip and Holly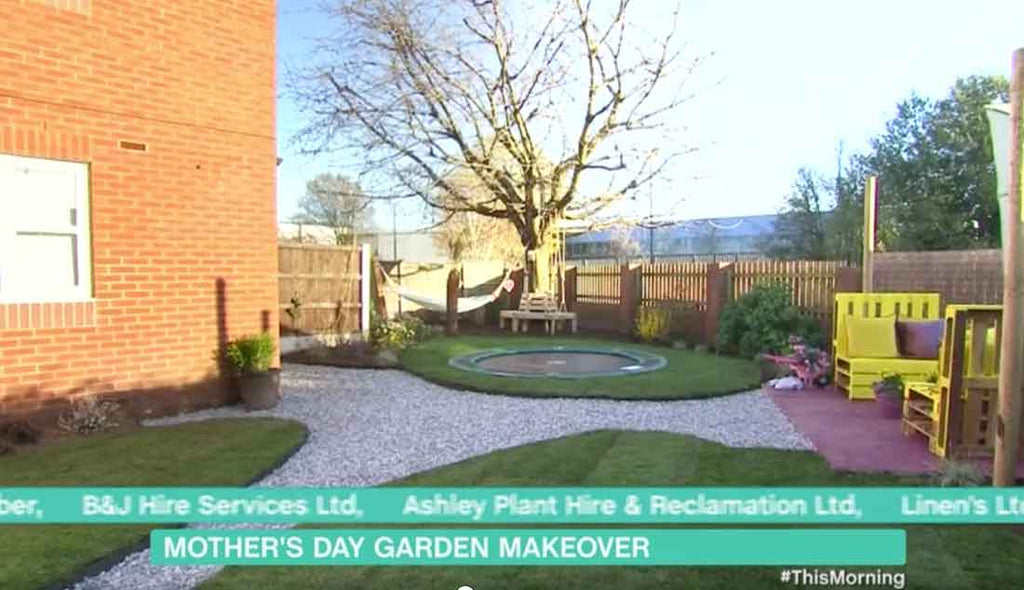 ITV's 'This Morning' Show featured the Capital In-ground Trampoline on their Mother's Day garden surprise!  Did you watch it?
Wow, what a special surprise for a well deserving Mum! Rachel is a mum of three and her husband Kevin has cerebral palsy and was diagnosed with cancer last year. Throughout that time (Kevin is now in remission) Rachel was the family's rock. Her mum Gaynor nominated Rachel for this ITV surprise on behalf of the children.
Rachel was truly surprised and absolutely over the moon with her fresh new-look garden design which featured a 10ft Capital In-ground Trampoline as star of the show.
This Morning new recruit Danny Clarke designed a fun, cheerful landscape for this deserving family. The garden space was transformed from an un-inspiring lawned garden to a family space including rustic yellow 'pallet furniture', a relaxing hammock, playhouse and bug hotel. 
The designers also replaced a well-used traditional above ground trampoline with a 10ft Capital In-ground Trampoline, in the lawn area as a key focal point.
The installation was completed easily and successfully by the ITV team. They did a tidy job, using a mini digger and hand digging. The ITV team completed this garden makeover (including installation of the trampoline) in just one day.
And here is the moment Rachel got to see her new garden!
And of course, the children couldn't resist and jumped straight on the trampoline!
We thought the end result was superb, and we hope that Rachel and her family have many happy hours having fun and relaxing in their new garden space.