Trampolines Down Under - behind the company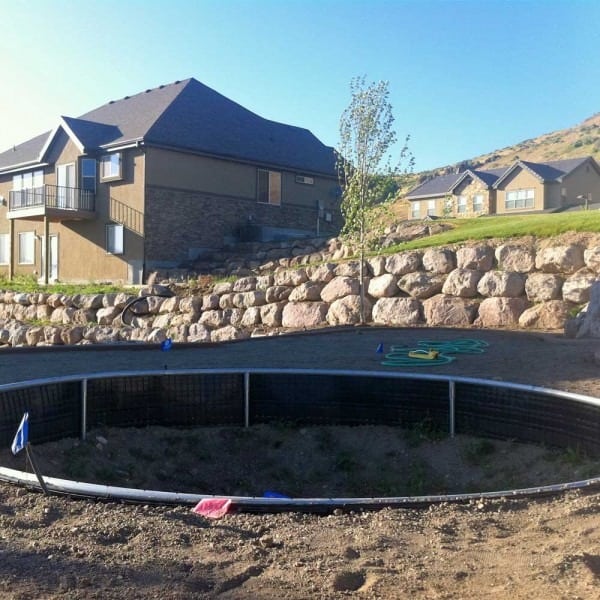 The first thing to say is that Trampolines Down Under (TDU) is NOT an Aussie company! The company is based in Utah, USA and very much American. 'Down Under' refers to 'under' the ground.
The inspiration behind the business
The company several years ago grew out of a landscaping business that was regularly being asked to dig normal trampolines into the ground. They were unhappy with all the compromise solutions of having to build brick or wooden retaining walls to stop the surrounding ground falling into the trampoline hole.
Kyle Nelson, the founder and current CEO of TDU, was and still is, a partner in the landscaping business and had the idea to manufacture a fit-for-purpose, easy to install retaining wall which would benefit both the landscaper in terms of ease of use and the customer in terms of cost.
About 5 years ago, Trampolines Down Under was set-up and the TDU Retaining Wall System came into being. Today TDU is still run by Kyle and an ever expanding team. The company still works closely with the landscaping business.
The retaining wall
The TDU Retaining Wall itself has a durable, lightweight polyethylene moulding with a patented self-locking buckle system. It has no sharp edges and a smooth rounded top edge for added safety. It assembles in minutes directly onto the trampoline frame using self-tapping screws.
In the US, trampolines are generally much larger in size than the UK, 14ft being a the most common size. The TDU wall was initially designed for the 14ft round trampoline but can easily be adapted for smaller trampolines and indeed oval, rectangular and even octagonal trampolines!
The vented pads
The TDU Retaining Wall started to sell extremely well as a cost-effective, fit for purpose solution for ensuring the integrity of the trampoline and avoid any problems with ground falling in under the trampoline and becoming dangerous and unsightly.
However, another problem was being experienced by customers - trapped air under the trampoline. This trapped air meant the air was being forced up through the springs, pushing the heavy surround pads up which were then slapping down on the jump mat, making an awful, irritating sound. In addition, the quality of the bounce was being compromised as the compressed air was preventing a deep and soft bounce from happening.
So a few years ago, Kyle and his team designed and patented the TDU Vented Trampoline Pad, a really strong and durable surround pad with vent holes to allow the air to escape and result in no 'pad slap' noise and a great improvement in bounce quality. These are now the 'de-facto' standard for all in-ground trampolines.
In 2013, Capital Play was appointed the UK and European distributor for Trampolines Down Under products.
For more information on TDU products visit their own website: www.trampolinesdownunder.com
Or: www.capitalplay.co.uk/in-ground-trampolines