Aeroball - A Trampoline Game Coming to a School Near You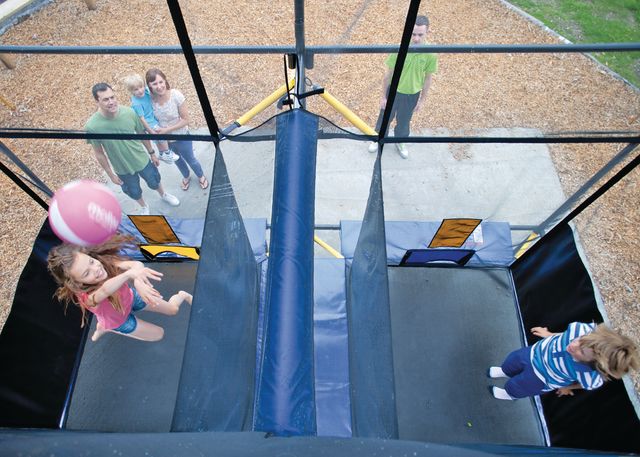 Aeroball is a combination of trampolining, basketball and volleyball. It's fantastic fun and great exercise. 
How do you make trampolining even more fun?
Aeroball is a new sport activity that is rapidly being adopted by schools and activity centres. It's a fun combination of trampolining, basketball and volleyball. The trampolining element delivers great exercise whilst the scoring element of the game develops timing and strategy skills.
The set up typically consists of four trampolines put together in a 2 x 2 grid which are separated by a double depth safety netting. Each of four players works in their own trampoline pod and they are surrounded by safety netting to keep them away from the springs and the edge of the trampoline.
The most popular version of the game is 2 teams of 2 players working together to score as many points as possible by throwing the ball through the basket at the back of their opponents trampoline pod.
Aeroball is played in a 2 x 2 trampoline grid.
Aeroball is a unique activity developed ex-gymnast Don Gordon who wanted to make trampolining (in the days when trampolines did not have safety nets) more fun and safer. In the current version of the game players have to combine their bouncing skills with passing, shooting and blocking. The game has a real teamwork element with both partners having to work together to beat their opponents. 
Aeroball can be set up indoors and outdoors.
The game can be enjoyed by players of all ages but it is becoming very popular in schools and holiday activity centres run by groups such as PGL.
Aeroball was recently featured on BBC Breakfast where the intrepid Mike Bushell tried out the sport. You can see from his report that the game delivers a great workout with a lot of fun.
Watch Mike Bushell's report on aeroball on the BBC's website here.