GTramp and the GTGames 2020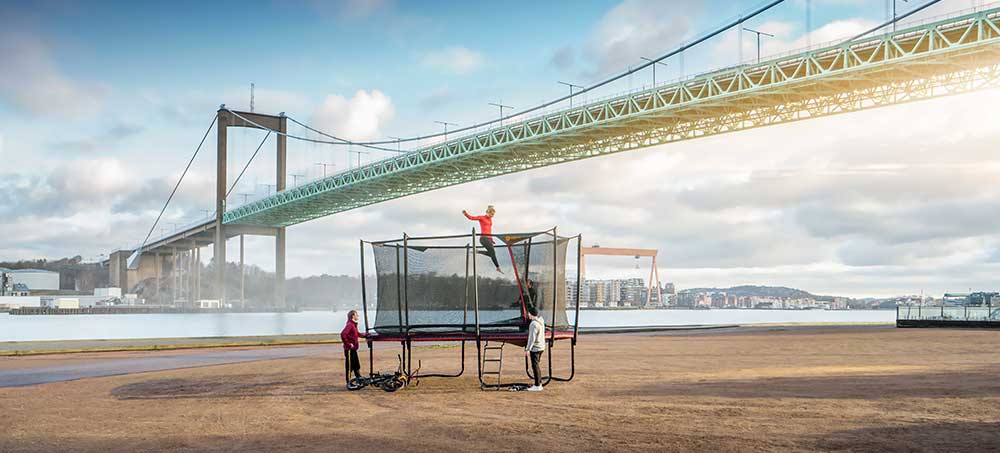 We are excited to be the only UK distributor of North Trampoline and a part of this year's GTGames in Sweden. We wanted to find out more about Gtramp and what it entails.
We invited 4 budding GTrampers (@josef._.flips, @noahfullbrook, @kasper.ino and @tom.h._) to try out the full range of trampolines in our showroom and give us a trampoline review.
Gtramp stands for garden trampoline and is huge on social media right now. It isn't for the faint hearted though; it involves teens pulling off acrobatics and gravity defying moves. They all want to head to the GTGames which is run by The Freestyle Trampoline Association. The GTGames take place every year in America, New Zealand and Europe, and is an opportunity for likeminded trampolinists to get together and compete to become the best GTramp athlete.
What makes a good Gtramp athlete?
People usually talk about variety and being able to do all sorts of tricks, however we think it's more about being unique and excelling at your individual strengths.
One of the ways you can qualify for the GTGames is to submit an audition video. For the submission it is definitely about being unique, showing your skills (but if you can do quads then that helps!).
(You can also qualify for the GTGames at the Tramp Champs. For more information click here.)
How long have you been into Gtramp?
Between us we have been doing it between 2-5 years. As well as practising in our gardens we also go to local gymnastics venues which have large trampolines and sprung floors.
How did you meet each other?
2 of us knew each other already but the rest of us met on Instagram. It's a nice community, which is what the GTGames are all about. It brings people from across the world together and unites them through trampolining. We plan meets in each other's gardens and not just in the UK.
What do you think of our trampolines for Gtramp?
The Springfree 11ft Square is really good for tricks off feet, however because the net is in the inside you feel like you lose a bit of space. We found the Springfree more bouncy in some areas than others, round the edges for example, so if you landed on your back you would bounce in one direction more than another. You have to put more effort into bouncing on the Springfree, however the shape makes it easier to do double bounce tricks. On the Springfree Oval 11ft x 8ft you have more potential of landing against the net because of it's shape; it's harder to stay in the middle.
The BERG 12.5ft Round is great for Kabooms (when you land on your back and then hit your feet on the ground and bounce back up). Circular trampolines are better for spins, but rectangles are better for flips.
The North Performer Revolution is huge so you had a lot of room to do tricks and it feels even bigger because the net is on the outside. The net being higher also gives you more confidence to try tricks. It's a really versatile trampoline, plus it is soft so it breaks your fall but not so soft that it is hard to bounce on. You get good height on the Performer Revolution with less effort, which means you can practise more tricks. It's a good balance, which is what you want from a trampoline.
The Capital Play Promaster is really good for people who are lighter because you are able to maintain height.
The In-ground Trampolines are great for tricks that involve jumping on and off the trampoline.
If you could have any of the trampolines which would you pick?
We would choose the North Performer Revolution as it is the best allrounder: