How to protect your trampoline as autumn approaches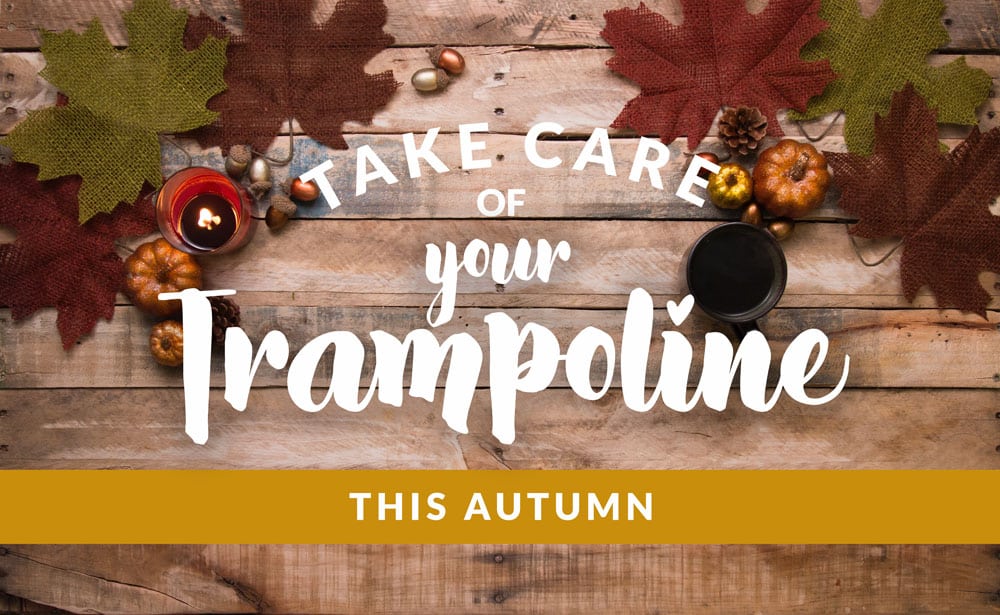 What an amazing Summer we've had - we bet the trampoline has had a fair bit of use this year! But there is definitely change in the air, kids are back at school and the mornings seem that little bit fresher.. yep, Autumn is on it's way!
Whether you've invested in a shiny new trampoline this year, or you have a seasoned 10 year old still going strong; it's best for your trampoline, your kids and - in very high winds - your neighbours gardens, that you take some time to look after it as the nights shorten, the leaves fall and the wind picks up.
Here are our 3 top tips to protect your trampoline in the Autumn and Winter months and increase it's lifespan and safety. 
1. Use a Trampoline Anchor Down Kit
OK, so trampolines do not blow away every day but we saw some pretty bad weather last winter and had a fair few phone-calls from people who's trampolines had moved or been damaged in gales or storms.
Generally it is the lighter, cheaper trampolines which end up three doors down the road, however we have seen some very heavyweight trampolines shifted in stormy weather - particularly in very exposed gardens.
An Anchor Down Kit can help reduce the risk of your trampoline blowing away. Anchor down kits work like a huge corkscrew that you wind down into the earth around the trampoline. They come with straps which attach to the legs of your trampoline and can be adjusted to fit most types of trampoline.
Our Anchor Down Kits cost £26.99 and we feel are great value for money given the protection and peace of mind they bring, however one alternative would be using sandbags. Not quite such a tidy solution and won't look great in the garden but using sandbags over each trampoline leg can give great protection for light trampolines prone to moving in high winds.
'Don't Be Without One'
⭐⭐⭐⭐⭐
'You should definitely consider a tie down kit as essential for your trampoline. Our 12ft trampoline is a 3 man lift, yet the wind one night lifted it over a six foot garden fence and damaged all the enclosure poles. I would have saved £80 by buying one of these originally!'
Gregory
2. Use a Trampoline Cover
We often are asked whether you should cover trampolines. We only sell good quality trampolines what are designed and built to last many years outside, however, we would recommend using a trampoline cover if your trampoline is near trees or you get a lot of birds in your garden, as bird muck and tree sap can be very hard to clean off! (Especially when the kids have friends round and they MUST go on the trampoline right now!)
We have also had reports of foxes and other wildlife on trampolines, and whilst we don't want to spoil their fun it is probably a good idea to keep the trampoline covered to stop little paws, claws and nibbling teeth from getting up to mischief in the quieter Winter months.
Are Trampoline covers easy to get off when we want to use the trampoline?
It can depend on what trampoline you are covering. For example our BERG trampoline covers are designed so that you can put them on and off without having to remove the netting or poles, however our In-ground Trampoline covers will need the enclosures removing (if you have one) to attach the cover correctly.
Our Generic Trampoline Covers are designed to fit on any round trampoline once the enclosure is removed for the Winter. All our product pages will explain how the cover is attached, or call us and we can advise.
Will using a cover make my trampoline last longer?
Yes. Over time the jump-mat and protective padding over the springs will begin to perish, mostly due to sunlight but it can also deteriorate with prolonged spells of frost and rain. Using a cover will be sure to increase the time before these trampoline parts will need replacing.
Do Trampoline covers keep the trampoline dry?
No. Our trampoline covers allow water to drain through a tiny mesh in the centre. This is important as it prevents water pooling on the cover and weight building up on the trampoline. All our covers have a fine mesh that prevents any debris finding it's way onto the jump mat meaning it will be lovely and clean next time you use it.
3. Perform a simple Trampoline Safety Check
Regular care and maintenance of your trampoline will help prolong its life and keep the trampoline a safe place to play.
Use this simple trampoline safety checklist as a guide. Ensure all parts are intact and cannot become dislodged during play, tighten any screws or nuts and bolts where required.
Check all trampoline parts are:
✅ Securely attached
✅ Correctly positioned
✅ No sharp edges or points
✅ No missing parts

Check trampoline springs are:
✅ Not damaged, bent or broken
✅ No missing springs
Check trampoline frame parts are:
✅ Not bent
✅ Not damaged
✅ No rust or corrosion
Check Mat / Pads / Net are:
✅ No missing parts (eg D-rings or ties)
✅ Not sagging
✅ No damage (holes, rips, fraying, tearing)
Here's Scott, our trampoline installer performing an annual safety check on an in-ground trampoline. Checking your trampoline at the start and end of your trampolining season means you can be sure it will be a safer environment for your family and last longer. You don't need to wear high vis to do it though 😉!