Interview with Springfree trampoline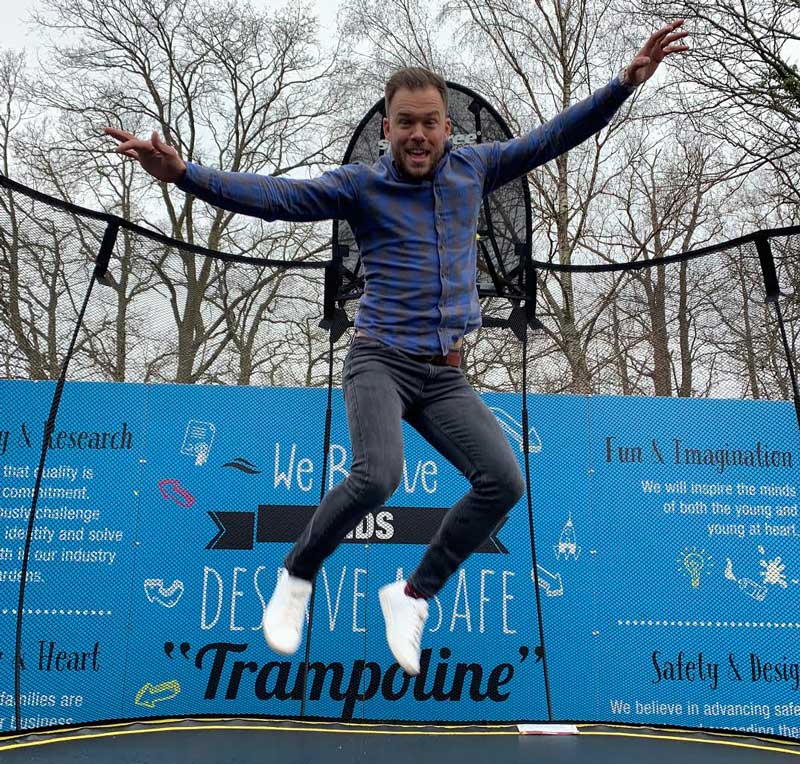 Read our interview with Steve Whalley - Head of Bouncing from Springfree Trampolines and find out the history behind Springfree and what makes them unique.
 Where do Springfree trampolines originate from, are they a UK company?
Springfree are a truly global business that was ingeniously designed by a professor of engineering in New Zealand. Nurtured and developed in Canada to create Springfree as we know it today. Springfree have been available in the UK now for over 10 years and continues to grow worldwide.
Springfree trampolines are widely sold throughout the world as the safest trampoline design available. What is it about Springfree trampolines that make them so safe?
Springfree's conception is a labour of love and a genuine attempt to change the way we bounce. The traditional spring-based trampoline has never been redesigned in over 60 years and Dr. Keith Alexander (inventor) decided to challenge this and find a new safer way. Springfree's design was focused on safety and this process began due to Keith's wife, who was a nurse, not wanting a trampoline due to safety concerns. To be brief, Springfree removes all the hard bits that you could come into contact with when bouncing. First and foremost, no springs; flexible enclosure; frames below the surface, all out of harm's way… Peace of mind that the main focus will be fun.
Why do Springfree trampolines use carbon fibre rods instead of springs and are they as bouncy as a traditional metal-spring trampoline?
Springfree uses a patented composite rod to create their bounce, it is their own clever recipe that has the ability to flex without breaking, will never rust and is silent when jumped on. The million-dollar question is, how does the bounce compare? In our opinion it's amazing for 3 reasons, it's an even bounce where all the rods on a Springfree work together wherever you are on the trampoline so no twisting or dragging you to an edge. It's a silent bounce, it will never squeak and Finally, due to the strength of the composite rods the bounce will remain the same for its lifespan.
As a retailer who displays Springfree trampolines in our showroom, we are often struck by the thickness, weight and sturdiness of the main frame compared to pretty much all other trampoline makes. Why do Springfree trampolines have such a thick and ridged frame?
For Springfree to be the safest trampoline, they must be the best quality and this is certainly the case. The frame is a galvanised and powder coated steel approximately 2.5 times thicker than most, if not all of its competitors, the frame strength ensures a Springfree Trampoline stands up to the test of time delivering over 10 years of fun in a variety of environments. We like to think of it as a 'Reassuring Frame' compared to how flimsy the market can sometimes be!
As trampoline experts, we are well aware that the netting design on a Springfree trampoline is far stronger than the average trampoline but what is it about the whole flexi-net design that differs from a traditional trampoline?
Both the flexible nature and the unique weave help ensure that a Springfree net isn't going to let you down as commonly expected with cheaper spring-based brands. The flex of the net is not only safer but also reduced the rigid impact to the net that can cause rips and tears. The intricate honeycomb weave of a Springfree net also gives it incredible strength and in addition to this has the ability to self-contain any small holes should one ever appear on the Trampoline. As if this wasn't enough, a Springfree Trampoline is UV treated to Australian grade UV levels, the highest in the world, another layer of protection to significantly reduce UV wear and tear and the Springfree lifespan.
Springfree trampolines obviously come with a great range of accessories, which accessories are your personal favourites and why?
There is a great range of accessories both fun and functional. The number one and favourite is the FlexrHoop, a basketball hoop which gives another dimension of play turning the trampoline from somewhere to bounce into an extreme basketball court! As a slight curve ball, but, my personal favourite, is the Black Rod Upgrade Kit, this is purely for aesthetics, making the trampoline a super slick all-black finish, certainly and accessory for the design conscious and anyone wanting to minimise the size impact on a smaller garden.
As UK Authorised re-seller of Springfree Trampolines we stock the complete range, and have selected models on display in our Surrey Showroom. Come along and see for yourself!