What.Lyra.Did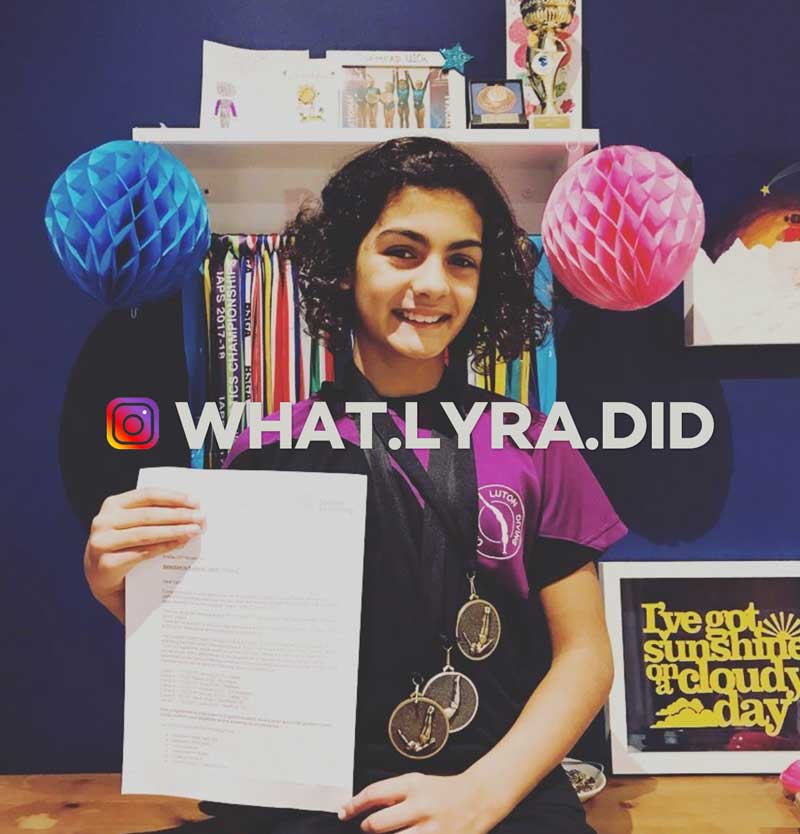 Lyra Guise Tucker is a super talented diver💦...singer🎤...and gymnast...  England Talent Team 🇬🇧... National Skills Diving Champion🏆Talent Games Champion🏆Grade6 Singer 🎼 AND National Gymnast!!
Lyra visited our showroom on a trampoline shopping trip a few weeks ago with her sister and lovely family, we were so impressed with their trampoline skills we wanted to find out more, so we put together a few questions to find out what makes someone so young so driven, kind and full of life!
How old are you?
I've just turned 12
Who lives with you at home?
I live with my Mum, Dad, elder sister, Poppy and younger brother, Bertie and my little dog, Mr Bojangles.
Do you have any pets?
Yes I have a mini sausage dog, called Mr Bojangles.
What is your favourite subject at school?
Art
When did you begin diving?
2.5 years ago when I was nine
How often do you train?
6 days a week but sometimes more during the holidays
When did you realise you had a real talent for diving?
I've always done gym and started diving for a bit of fun. I was then selected for the talent identification squad by my coach and I've steadily improved from there.
Do you do any other sports?
Gymnastics
Do you find it hard to fit training around school and friends?
Yes, it's difficult but my school work has always come first. I have great friends in and out of diving, so even when I'm training, I'm around my friends. Most of my friends compete in their own sports so we are understanding-of each other's commitments and always try to plan ahead so we can enjoy time together.
What are the best things about having a trampoline at home?
It's a great way to unplug and hang out with my friends and siblings. If we could only have one toy/game in our house it would always be the trampoline. It's the first place we all go to when we get home.
What do you see yourself doing in 10 years' time?
In ten years time I would be 22. I would hope that I would be near the end of university. I'm not quite sure what I would like to read but I'm interested to look into physiotherapy, maybe specialising in Sport Physio.
If you could be any animal, which one would you be and why?
I would be a humming bird because I would be able to fly and whether it's on a trampoline or a diving board, I like the feeling of being airborne. As a tropical bird I would live in sunny places and it would be pretty cool to be able to fly backwards!
Do you think having a trampoline at home has improved you as a diver?
I generally use the trampoline to cut loose and have fun rather than train. However, it has definitely improved my power and core strength which is critical for diving. Our new Berg trampoline has definitely enabled my sister and me to increase our gym skills and link those skills together due to the length of the trampoline; even my little brother has nearly learnt his front flip.
What is your favourite thing to do with your friends?
Probably to hang out in the trampoline! Although we love shopping too.
What do you love most about your siblings?
How incredibly supportive they are of all of my commitments between gym, diving and singing. I know I take up a lot of family time but they are so encouraging of everything I do. I'm super lucky.
What is your favourite thing to do in the summer?
This sounds a bit repetitive but I love to play on the trampoline but especially in the summer when it's warm. We even camp out on there for sleep overs. I love drawing outside and playing with my dog too.
 Do you ever trampoline to music? What do you listen to? Yes I LOVE music. My taste is quite eclectic because I tend to sing a wide range of genres and we always have music on in the house. I love anything from Madonna to Radiohead to Billie Eillish.
What would you do with £1000000?
I would save some, give some to charity and go on an epic family holiday to Australia and New Zealand.
What is your happiest memory?
My happiest memory is a summer holiday in Puglia. I love Italy anyway but in Puglia we stayed in the cutest little trulli where we could climb onto the roof and play amongst the turrets.
Describe yourself in one word
Fortunate.