Safety surfacing for in-ground trampolines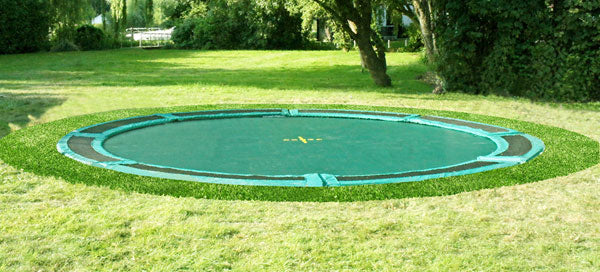 Do I need safety surfacing around my trampoline?
No, you do not need anything else than you're existing grass, but there are some benefits from using a safety surface. Here we're going to look at using artificial grass with a shock pad underneath for cushioning.
The advantage of the artificial grass is that it will help to keep the area around the trampoline free from being worn down, muddy or unsightly. It will also help the trampoline to stay clean and dirt-free. It will make mowing easier as you do not need to mow up to the trampoline pads and in fact you can mow over the artificial grass (as long as your mower blade setting is not too low!) to make a really neat finish.
In short, artificial grass around your trampoline is really smart in appearance and will keep the trampoline and surrounding area looking great.
The cushioning shock pad sits under the grass, so let's look at this in a bit more detail:
What is a shock pad and what are the benefits?
A 'shock pad' absorbs impact on compression thus reducing the risk of injury if children fall off the trampoline. Once pressure has been released the pads recover to their original state. The pads are free draining so the area will also dry out quickly following a downpour allowing children to enjoy the trampoline even more.
The shock pads and artificial grass we use have been tested in accordance with EN 1177 : 2008 for Head Impact Criteria.
So to conclude, the benefits of a safety surfacing are two-fold: it's safer for your children and is aesthetically pleasing. However, this option is quite expensive, and, although will help reduce the likelihood of injury, this is somewhat marginal.
For further information visit the In-ground Trampoline page on our website.