'The Jump Shack' launches our in-grounds in sunny Arizona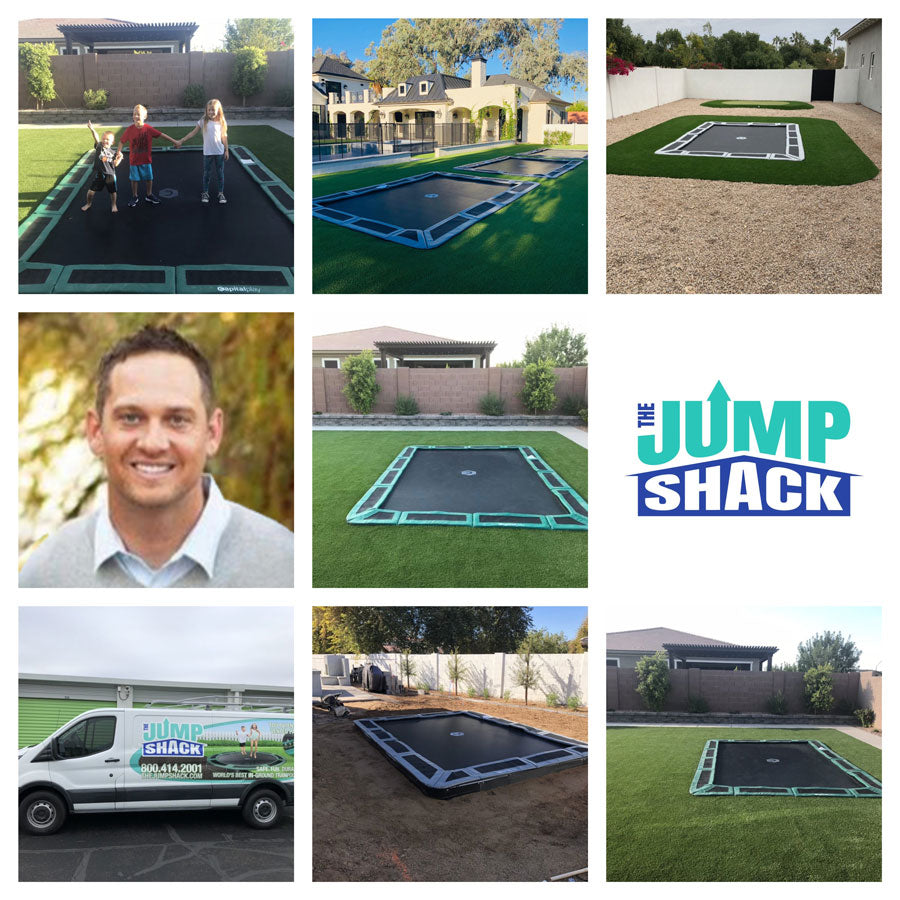 We've partnered with Tyler Landvatter from The Jump Shack www.thejumpshack.com to retail and install our global best-selling in-ground trampoline kits in Arizona USA. The Jump Shack offer our full range of trampolines and a gold standard installation service in and around the state of Arizona. 
Get to know Tyler and his wife Hawli (Owner of The Tumble Shack) in our interview below!
What was it about Capital In-ground trampolines that made you want to start promoting and selling them?
The biggest reason I chose Capital play was the fact that it had a built-in retaining wall. Once I received our trampoline I was amazed at the quality of the product and knew this would be a game changer for the world of in-ground trampolines.
Why do you think the Capital In-ground Trampolines are so popular in Arizona?
I think the Capital in-ground trampolines are so popular in Arizona because we have sunny weather year round and kids and families enjoy spending time together in their backyards especially when they have a trampoline to jump on!
You installed one of our trampolines into your own back garden for your young kids to play on, how are they finding it?
My kids jump on our Capital in-ground trampoline everyday! They are constantly learning new tumbling tricks, playing games together and having fun! Our dog Jerzey even likes to play on it!
You offer an in-ground trampoline installation service in your area, what are the benefits of you guys installing the trampolines for customers rather than them doing it themselves, what's involved?
Having The Jump Shack install your in-ground trampoline is definitely the easiest way to insure that it gets installed properly. The install process isn't too complicated but we have seen that some people fail to follow the instructions properly and remove too much of the soil where the trampoline would sit and it ends up costing them more time and money to remedy the situation. We also have the equipment necessary to get the job done quickly and with our dump trailer we can haul off any of the extra spoils so your yard is looking good again!
Do you feel a trampoline is a good kids alternative for screen time/phones/tablets etc? 
I think that purchasing and installing a Capital in-ground trampoline has been one of the best decisions we have made. My kids are constantly being distracted by video games, iPads and TV so having a backyard with a trampoline that they can bounce on and be kids and burn some of their energy off each day has made all the difference in the world!
When we found out that the owner of The Jump Shack trampoline company was married to a tumbling instructor, we thought "a match made in trampolining heaven!" So we asked Hawli (Owner of The Tumble Shack - www.thetumbleshack.com) a couple of questions too!
Have you used your own in-ground trampoline for your work Hawli?
Yes when we did tumbling in my backyard our in-ground trampoline was everyone's favorite rotation to go to! We worked on back handspring's, backflips and connecting tumbling from the ground to the trampoline.  My Students would want to stay after class so they could spend more time on the trampoline and perfecting their tricks.
What are the benefits of tumbling and is this something kids can start getting into by using their trampolines?
Tumbling helps improve flexibility, strength and coordination. Trampolines help to teach skills and make it easier and more fun before taking their skills to the ground. The trampoline really helps them to perfect their skills, body awareness and positions.
For more information on ordering your in-ground trampoline from the Jump Shack or arranging installation in Arizona please visit The Jump Shack