Trampoline lighting - the power of garden lighting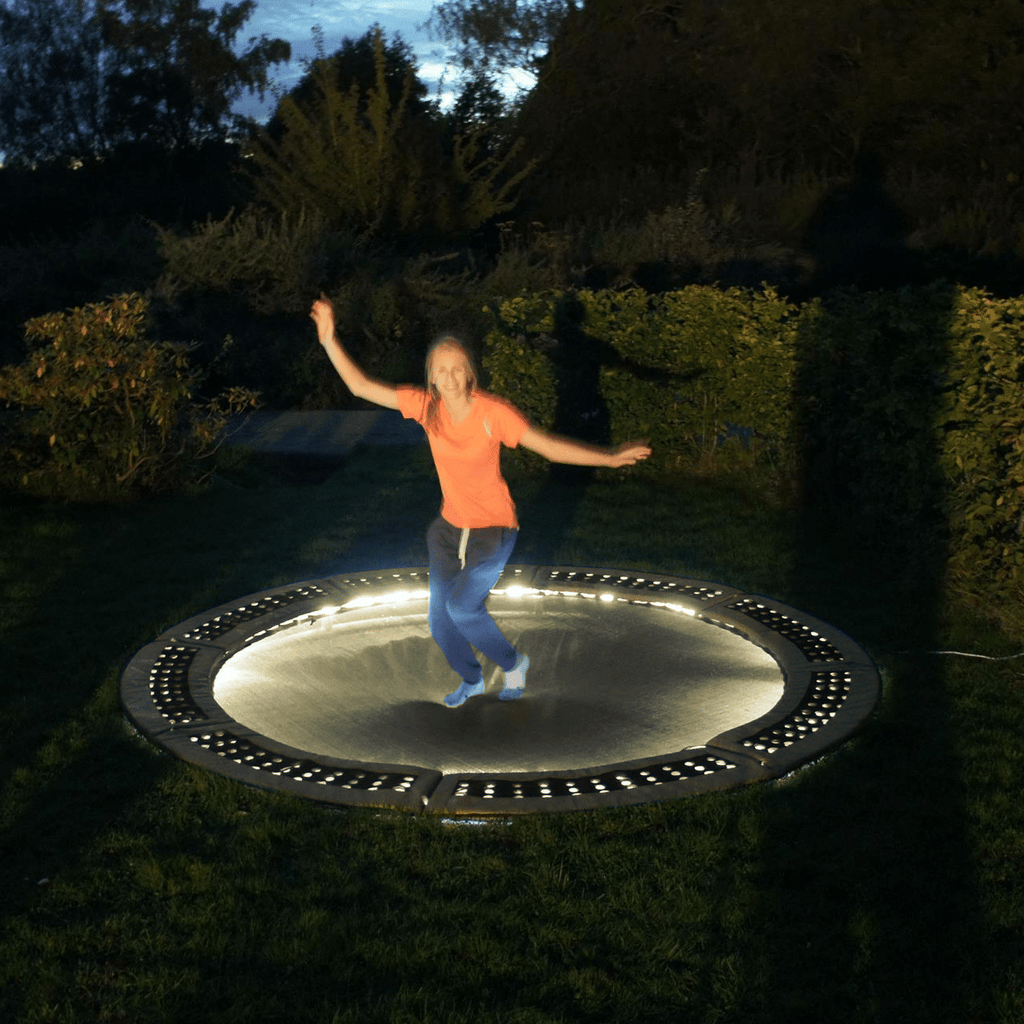 More and more our gardens and outside spaces are being designed to be an extension of our homes. We work hard to create beautiful outdoor spaces that are a stunning show of plants, flowers, textures and levels in the daytime - but what happens when the sun goes down? 
We love the transformation that a little outdoor lighting brings to a garden. It really doesn't take much effort to bring your garden alive in the evenings and create that 'extra room' feeling to your house. It's also a great way to keep the kids playing outdoors in a safe environment as the evenings begin to shorten.
We are super excited to announce our brand new colour changing LED trampoline lighting. Designed to work with the Capital In ground Trampoline, they will transform your garden, and you can use the colour wheel remote control to choose any colour you like.
What is most exciting about lighting your garden in this way is the complete change of mood that different colours can bring. Wether you're partying hard with your teenagers (or keeping an eye on them from the kitchen window), sitting with your partner in the early evening sun or toasting marshmallows around the fire-pit, imagine the fun you can have lighting your in ground trampoline in a colour to suit your mood.
Red Garden lighting:
Red lighting gives great energy and is ideal for people who are often over-tired. (So that's most of us then!) 
Yellow Garden lighting:
Adding a yellow glow to your trampoline will lift your mood. Know as the 'depression killer' yellow is known for being an all round uplifting colour and is lovely and warm in more traditional gardens.
Blue Garden lighting:
Blue is known to be a calming colour - it can be used to lower high blood pressure.  We think blue lighting works really well in modern gardens that use lots of straight edges, formal areas and crisp lines. We think our grey rectangular in ground trampoline would be the perfect match for blue trampoline lighting.
Green Garden lighting:
Green is the colour of nature. It gives a slightly surreal effect when used in a garden, working with and enhancing all the other shades of green.
We now offer a warm white and our new colour wheel selector in-ground trampoline lights to help you add a new dimension to your garden design.
Easy to install either by an extension lead when needed, or make them permanent feature with a switch indoors with a little help from your electrician our 'Magic Night Lights' make a stunning feature in your garden.