Trampolines for World Autism Awareness Week 1st - 7th April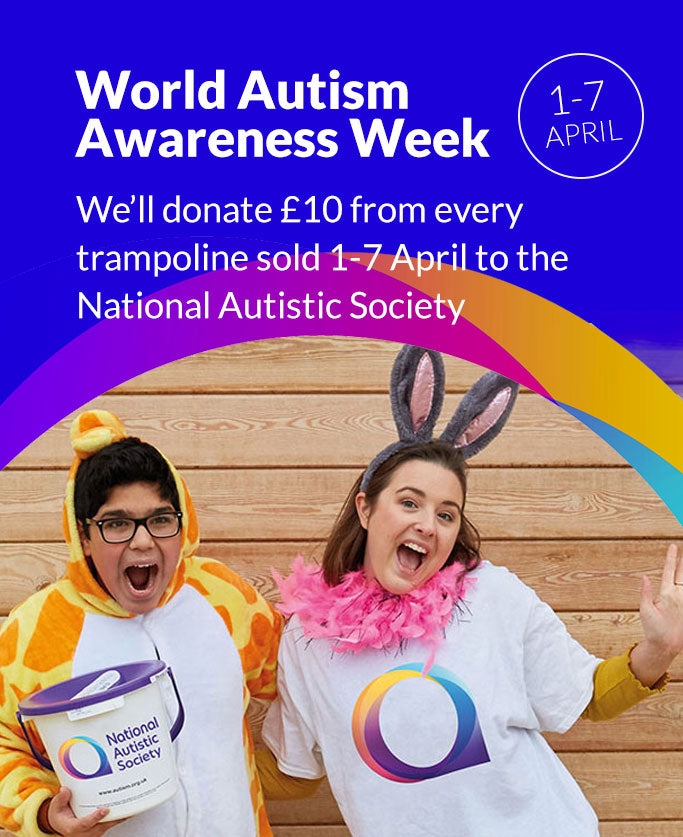 This year we have decided to help increase awareness and help fund the amazing work done by the National Autistic Society by donating £10 from every trampoline we sell during Autism Awareness Week.
What is Autism?
Autism is a lifelong, developmental disability that affects how a person communicates with and relates to other people, and how they experience the world around them.
National Autistic Society
From diagnostic services and training to providing support to children and young people in specialist and mainstream schools, the National Autistic Society is UK's largest provider of specialist autism services. Their trained staff and volunteers bring passion and expertise to the lives of 100,000 autistic people every year.
 Autism and trampolines – what's the connection?
Autism is a subject close to our hearts here at Capital Play.  As in-ground trampoline specialists we have worked with many SEN schools and schools specialising in people with autism to provide and install trampolines for rebound therapy for kids and adults on the autistic spectrum.
We also work closely with the Rebound Therapy Organisation who have approved our 14 x 10ft Capital In-ground Trampoline for rebound therapy use. It has been selected for its' size, strength and ease of access. It also can safely cater for both children, young adults and carers in terms of user-weight limits and access.  The 14x10 Capital In-ground Trampoline is also accessible for wheelchair users and can be used with a hoist if needed.
What is rebound therapy?
Rebound Therapy uses trampolines to provide therapeutic exercises for people with a wide variety of disabilities and additional needs. The effect of deep pressure and weightlessness together has many positive effects on the brain and can help with a range of behaviours often seen in people on the autistic spectrum, from increased concentration - to an increased sense of calm.
Adults and children with autism can suffer from severe anxiety. Controlled bouncing can Rebound Therapy exercises can help alleviate this and has a strong calming effect.
Staff and carers in SEN schools and specialist autism schools we have worked with directly have reported a clear reduction in symptoms such as tactile defensiveness and pro-prioception. They have also seen a remarkable increase in levels of concentration. Allowing students to achieve more in their school life.