Trampolining - Healthy Fun For All The Family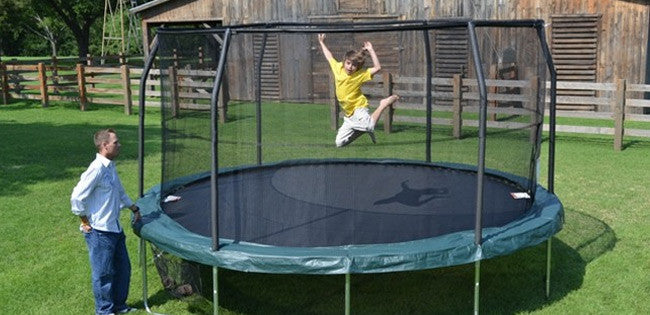 Trampoline fitness for all the family
At any given time we have at least eight different trampoline models on show in our indoor display area for families to come and try before they buy. When visiting us there can often be each member of the family all on separate trampolines and it's fascinating to see how much everyone is enjoying themselves. Children love to bounce on anything so they are obviously having a great time but the Mums and Dads always seem to enjoy themselves when they try them out.
What the people on the trampolines don't often realise is how hard they are breathing due to the combination of the bouncing and the laughter often accompanying it. As a qualified gymnastics coach and keen runner and cyclist I'm tuned in to listen to people's breathing as a measure of how hard they are working. Trampolining is not only great fun but it's a great form of exercise, one that can be enjoyed by the whole family.
You can bounce as hard or as gentle as you like but whatever you choose you are working your muscles and your cardiovascular system. The balance element of trampolining also means you are working your central 'core' muscles to help keep the tummy area pulled in. For adults trampolining is a much lower impact exercise than running for example. We supplied a trampoline to the training ground of Chelsea F.C. which they use for rehabilitation exercise for their footballers returning from injury. 
Trampolining - Great Fun, Great Exercise
It's great to see youngsters take the first precarious bounces on a trampoline and within a few minutes they are bouncing higher and more confidently as they get used to it. The beauty of trampolining, especially for children is that they are getting a great form of regular exercise without even realising it and that can only be a good thing today when it's so easy not to be active. If you still need convincing, why not come and visit us and try it out for yourself.