What to look for when buying trampoline frame padding?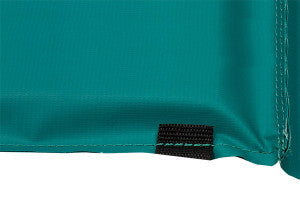 The trampoline spares market is awash with what look like bargain priced trampoline frame pads, but we advise caution before you part with your hard earned cash and buy replacement pads that may not be wide enough for your trampoline and will probably not last more than a year.
Are They Wide Enough?
The pads must fully cover the frame and springs on your trampoline and overlap the jump mat by at least 6 cms. So check the width of your current pads and those that you are looking to buy.
How thick are they?
We recommend padding at least 20mm thick.
The thicker the pads are, the more cushioning they will provide. We would recommend that the pads are at least 20mm thick as this will allow a decent amount of cushioning.
What material is the pad covering made of ?
This is probably the most important factor – the fact that you are looking for replace the padding on your trampoline means that the original set have fallen apart. If the pads are made of a good quality material they should last 5-10 years.
What materials are used ?
PE or to give it it's proper title - Polyethylene. This is a commonly used material on groundsheets and tarpaulins but it is not 100% waterproof and tends to fade and ultimately fall apart in direct sun light, This is what tends to be used on cheaper frame pads and will last only about a year.
PVC - Unlike PE, PVC is 100% waterproof and hence far more durable. A set of PVC pads will cost more than a PE set but in our opinion worth the money. Bear in mind also that PVC come in different thicknesses – a good set will be 0.35-.050mm thick – If the PVC is too thin, it won't last.
PE is used on cheaper frame padding
PVC is for more durable than PE
How is the padding attached to the trampoline?
We have all seen trampoline pads flapping around in the wind. This is solely because the pads do not come with a secure fastening to the trampoline frame. A good system will utilise strong toggles, ensuring a good tight fit, whilst cheaper pads will have thin straps that will ultimately snap off the padding.
High quality padding is secured with toggles.